Exercises
Find literature on bar-headed goose hemoglobin from PubMed.
Find protein sequences of bar-headed goose and greylag goose hemoglobin from Swiss-Prot make sequence alignment to compare the differences between these two molecules.
Find protein sequences which share 90% similarity with bar-headed hemoglobin alpha chain, make multiple sequence alignment and construct a phylogenetic tree for the above protein sequences using the maximum parsimony method.
Retrieve three-dimensional structure oxy (1A4F) and deoxy (1HV4) form of bar-headed goose hemoglobin, compare the difference of the heme molecule with Swiss-PDB Viewer.
Make superimposition for the alpha and beta subunit of bar-headed goose and greylag goose (1FAW) hemoglobin, find out the differences of the substitution site (Pro119-Ala119), measure the contact distance between the side chain of this residues and the side chain of Ile55 of the beta subunit.
Make a summary about the sequence, structure and function of bar-headed goose hemoglobin.
Xu LM, Analysis of Bar-headed goose hemoglobin. Homework of the ABC course (in Chinese). [ PDF ]

References
Links
Hemoglobin - Brief introduction of the structure and function of hemoglobin written by Shuchismita Dutta and David Goodsell for Molecule of the Month, PDB, May 2003.
Storz Lab - A web site for the study of the hemoglobin structure, function and evolution maintained by Prof Jay Storz, University of Nebraska.
Globin gene - A web site for the globin gene server developed by Prof Ross Hardision at Pennsylvania State University.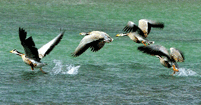 The pictures of bar-headed goose and greylag goose were downloaded from several web pages. Thanks to the original authors to make these beautiful pictures available on the Internet.